Dettol - Pakistan's #1 Floor Cleaner!
Dettol - Pakistan's #1 Floor Cleaner!*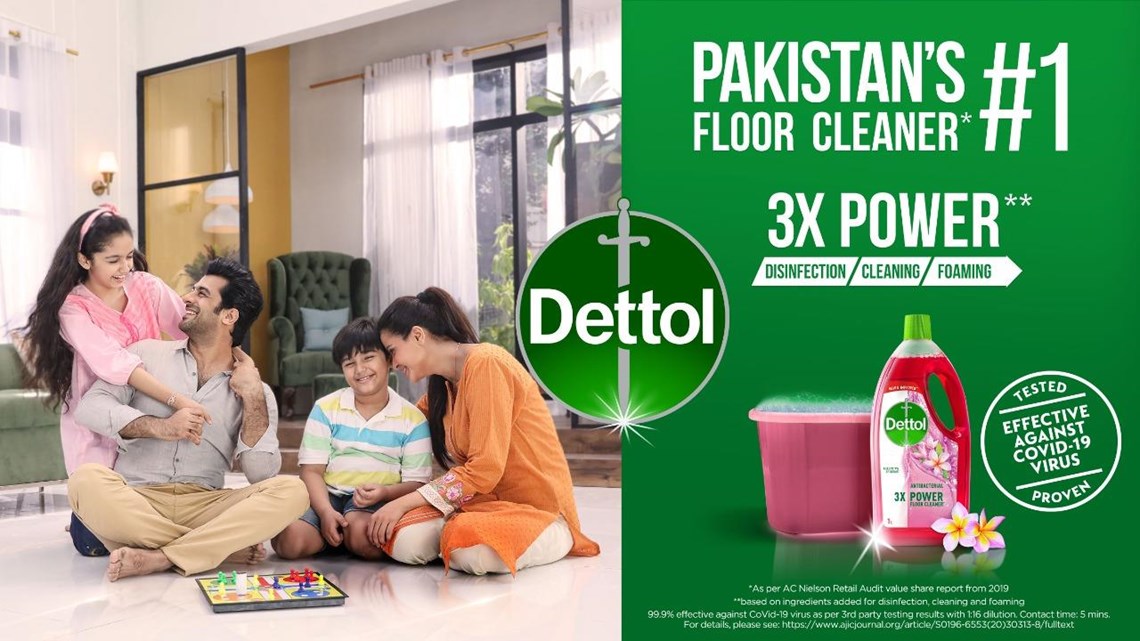 A healthy home is the key to a healthy family. Kids are young, energetic and have very active lifestyles; but they are also exposed to germs and illnesses as they play in and outside the house. As we return to the new normal, we are more prone to bringing those germs in the house than ever before. The new Dettol Power Floor Cleaner with 3X power** is a solution that not only protects home from germs but is also effective against COVID-19***. (For details please see  https://www.ajicjournal.org/article/S0196-6553(20)30313-8/fulltext)
Its improved1 and enriched 3X formulation has the power to clean, disinfect and produce stronger foam all at the same time. It holds Dettol's trusted anti- bacterial power to kill 99.9% germs.2 Ultimately giving protection to homes and safely making every floor a playground so that kids continue to have fun and Mums remain worry free.
Dettol Antibacterial Power Floor Cleaner can be used on all hard surfaces in your kitchens, bathrooms, and on your floors. Dettol Multi-purpose cleaner is bleach free and helps remove 100 types of stains3 from hard surfaces better than ever leaving your home healthy, happy and protected.
Dettol recognized the need for heightened protection to fight and disinfect homes with extra care and vigilance. Dettol cleaner is available in a wide variety of fragrances to choose from according to your preference. (Floral, Citrus, Aqua, Oud, Rose, Lavender). For best results do not mix with any other product.
Our favorite multi-purpose cleaner has been designed and formulated to keep you and your loved ones protected and happy on all hard surfaces in all homes, at all times. Kill the germs, kill your worries.
*As per AC Nielson Retail Audit value share report from 2019
**based on ingredients added for disinfection, cleaning and foaming
*** 99.9% effective against COVID-19 virus as per 3rd party testing results with 1:16 dilution. Contact time: 5 mins.
1Versus previous formulation
2"E. Coli, E. Hirae, P. aeruginosa & S. aureus"
3As per lab test against selected stains and strains